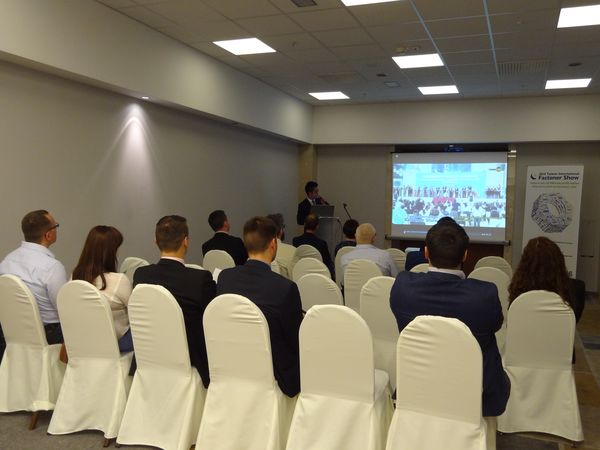 I have been always wondering how such a small country like Taiwan with approx. 23 million inhabitants became one of the two largest manufacturers of fasteners worldwide?
It's a very long story. During the Second World War there were US military bases located in Taiwan. The Americans need a lot of fasteners for military purposes e.g. aircrafts and ships. It was the beginning of the development of fasteners industry Taiwan. The military base was located in Kaohsiung. Many currently existing companies was established in that period of time. They were founded by grandparents, and today are run by grandchildren. In the region of Kaohsiung there are currently 700 manufacturers of fasteners. We can say that now it is classic cluster with producers of materials, machinery, services etc. All in one place.
The second important reason why we have so many companies in that field is that they prefer to operate in cooperation than compete in classical meaning of this word. The market of fasteners is still family managed business today and this is the reason why managements of these companies are fully devoted to their business.
How important for Taiwanese economy is production of fasteners?
Production of fasteners it was a really the beginning of industry in Taiwan. After that we developed machinery, automotive, electronic industry. All these three industries are well developed now and their demand for fasteners is quite big.
Honestly speaking the producers of fasteners has no choice but only export as Taiwanese economy is too small to absorb big part of production, is that correct?
Yes, indeed, our economy is too small, that's why all the time we have to look outside our country.
In that case, what is the biggest advantage of Taiwanese manufacturers of fasteners over other strong manufacturers eg. from Indonesia, Vietnam or China?
Many of our companies are investing in China. There is permanent trend in our industry to cut cost as customers always demand lower prices. We have to adjust our costs to meet the requirements of our customers. A few industries e.g. airline expect the highest quality of products and that's why they choose our manufacturers. We can still win with Chinese manufacturers thanks to our quality.
Considering how many producers of fasteners are in Taiwan, how they deal with internal competition?
Instead of competition, we prefer to call it cooperation. Of course companies are independent but they try not to enter the fields reserved by others. Of course we will not avoid competition but they are trying to find their niche in market.
So this formula is very good for the market, because companies are looking for new product enhancements, developments, changes in technology, production...
Yes it's true. If we do not work hard on development, no one from international markets will be interested in our products.
How the future of fastener industry in Taiwan will looks like?
Some products will not change. Bolt will be still bolt. We have to put more attention to good customer service. China and Vietnam will definitely catch us up with quality in basic products.
We must constantly look for new products, some added value that will allow us to keep our existing customers and to find new ones.